The prospect of winter is usually quite exciting for fashion enthusiasts; they get an opportunity to layer their outfits and try new looks. However, the excitement doesn't last long, because more often than not, a few weeks into the season, you find that you have nothing to wear to work.
Putting together fashionable outfits for work is already hard enough, and when you add the restriction of cold weather on top of it, it can become even more challenging.
Therefore, today, we are going to tell you about some of the best winter work outfits that will make you stand out and look fantastic. So, keep reading to learn more.
Turtleneck, skinny jeans and trench coat combo:
Turtlenecks are one of the trendiest pieces that you can wear in winter, and pairing one with skinny jeans or fitting cotton trousers will make for a great outfit.
You can also throw on a classic beige trench coat over the black turtleneck to make it pop and look fantastic. Put on a pair of ankle boots with these outfit to complete it
A sweater dress with leg warmers and thigh-high boots:
Sweater dresses are an excellent option for winters, and if your workplace isn't too formal, which most workplaces aren't these days, you can wear a comfortable yet stylish sweater dress to work.
For convenience and the perfect winter look, you should wear leg warmers and a pair of black thigh-high boots. They will make your outfit look super stylish and will keep you warm as well.
Button-down shirt, plaid skirt, and overcoat combo:
One of the best combinations when it comes to winter work outfits. The reason it is one of my favorites is that it is easily layered and very versatile.
Firstly, it is suitable for almost every kind of workplace, and it can be styled up or styled down with some simple additions according to the occasion.
Secondly, you can rotate the same blazer with different shirts for the entire week and look stylish and vogue every day.
If your workplace is casual and you want to style the outfit down a little bit, consider replacing the button-down shirt with a custom t-shirt. Therefore, look for an online store that does t-shirt screen printing
Cotton pants, white button-down and a sweater: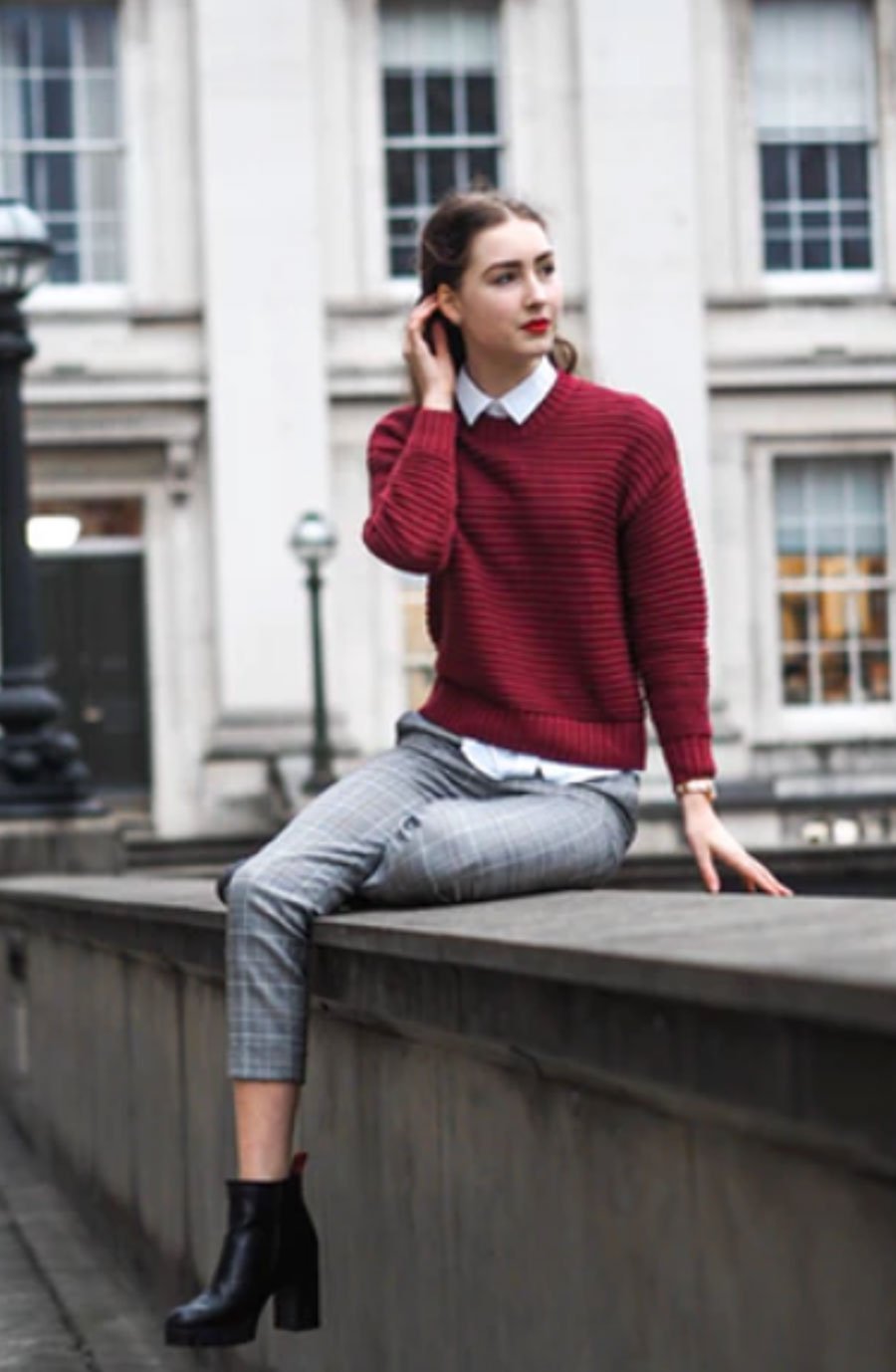 Winter is a great time to play with layers, and this is one of the best outfits that combine layers and different textures.
Textured cotton trousers are very fashionable these days, and pairing them with a white shirt and a chic sweater makes for a great winter work outfit.
Avoid using baggy pants or sweaters if you are going for this outfit, and to make it super trendy, throw on a pair of chunky heavy boots that are also a prevalent trend this year.
Oversized knit sweater, with skinny jeans:
Oversized tops are also a popular trend this year, whether it is oversized coats, jackets or sweaters, they look stunning.
For a workplace that has a casual dress code, a baggy and oversized sweater is perfect. It is warm and comfortable, and if you wear it right, it will also look exceptionally stylish.
Remember to wear skinny or at least slim-fit jeans if you are going for an oversized top. It allows you to create a nice contrast, and it helps you prevent your outfit from looking out of proportion.
If you don't want to wear a sweater, you can also opt for an oversized blazer with padded shoulders, which are quite fashionable this year.
A boatneck mini dress, with legwarmers and a blazer:
If you want to wear a dress to work, then one of the best options is a boatneck dress. If your workplace has a casual dress code, you can choose any print you want, but for formal and semi-formal workplaces, you should try and avoid floral, tropical, and other colorful prints.
Instead, it would help if you opted for plain or textured dresses. For this outfit, I would suggest a grey plaid dress. Wear a dark blazer on top to keep the chills out and the style up to date.
For the bottoms, you have multiple options, if you want to wear heels, then go for leg warmers, otherwise, if you are wearing boots, you can also wear leggings.
To sum it all up, when you go to work, you should always try your best to look stylish, fashionable, and presentable. Looking good has a lot of advantages, firstly it makes you feel better; secondly, it boosts your confidence, and finally, it allows you to make a killer first impression. Therefore, try out the outfits mentioned in this post if you are also having trouble selecting the perfect winter outfit for work. I hope that you find the most helpful and informative.
Author's bio:
Liam Bold is a fashion student based in France. He spends a significant amount of time working for trends on the internet and loves all the high street brands. He regularly shares his ideas about how to get better in style and to put together outfits. You can check out his plans at https://www.getbold.com/.