Hiking with your kids is an awesome way to bond with them.You might be thinking that it could be a disaster.
Well, it could be. BUT, if you have it well-planned and you are fully prepared, it will be one of the best memories you will ever have with your family!
Hiking is exciting and fun!
To make sure you get to bond with your kids well, we have laid out important points when hiking with children.
Let's get to it!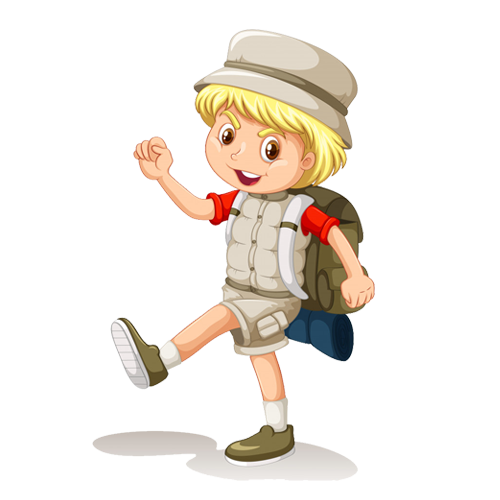 ● 3 Years Old
If you have toddlers, it's recommended that you carry them most of the journey. To prevent taking the fun out of your hike, select routes that are less than two miles. It is already an accomplishment when you go out with your kids even at a short distance. So, a good hike can be between 0.25 to 2 miles.
● 4-7 Years Old
For this age group, many children are more about exploring and socializing than hiking. These are already capable children, so they are capable of hiking up to six miles. However, most of them prefer shorter hikes.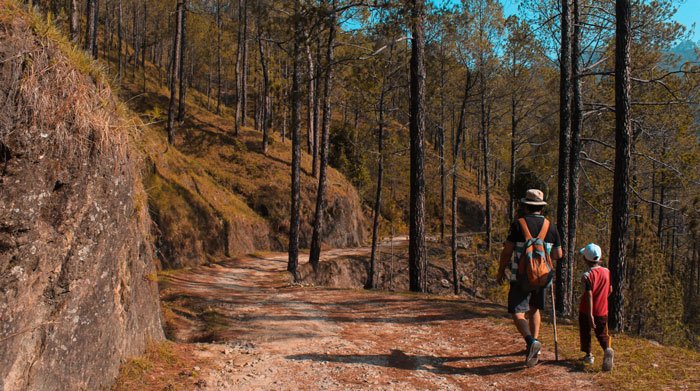 They love to stopover and appreciate the things around them and this will take time. They also love to interact and play with other children. Bottom line, while they can hike longer distances, it's better to stay on the safe side. So for this age group, the recommended distance is two to four miles.
● 8 Years Old and Up
Remember that every child is unique. But, for most school-age kids, they can handle longer distances. But, if they are carrying heavy loads, then it's better for shorter distances as well.
Remember, it's not about the distance, but the experience! So, don't worry too much about the miles. Instead, focus on how you can make it memorable! For older kids, the recommended distance is six to ten miles.
● 0-3 Years Old
Toddlers don't really need to carry something. But, if they want to, then let them. They can carry an empty backpack or have a jacket or toy in it. They can also put their bottled water and snacks in their bags. For this age group, the recommended weight is 0 lbs. or 5% of their weight.
● 4-7 Years Old
A typical 5-year-old weighs around 42 lbs., so they can carry a pack more or less two to four lbs. In their backpack, they can only carry light items, such as a handtowel, bug spray, and some snacks. Larger kids can carry heavier items, such as a water container, flashlight, and some extra clothes.
● 8 Years Old and Up
Children eight years old and up can definitely carry heavier items. For example, if your kid weighs around 80 lbs., they can carry a pack that weighs 12 lbs. So, in their backpack, they can carry a variety of essential items, such as food, extra clothes, water container, digital camera, etc.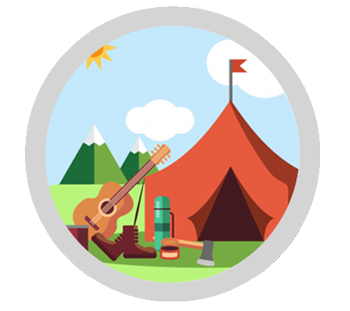 ● Hiking Shoes for Children
Hiking shoes are specifically designed for, well, hiking. Don't settle for any type of shoes as hikes and long walks can cause discomfort to your kids. For more comfort, choose hiking shoes with closed toes that fit well your kids' feet. Also, don't forget to use sturdy socks!
● Sun Protection
For sun protection, here are the things you'll need:
1. Sunscreen for kids
2. Safari hat for kids
3. Sunglasses for kids
4. Sunhat for babies with drawstrings
When using sunscreen, make sure to include all exposed places, such as the face, arms, legs, and the back of the neck.
● Water
When hiking, you will surely need a lot of water. Carrying one huge container can be really heavy. So, to lighten up the load, let your kids bring their own containers. Let them carry their own water in their small-sized backpack. If your kids are older, they can have larger backpacks and carry other items.
● Snacks
Of course, we can never forget the snacks! For convenience, bring those that are light and easy to eat. A great example is Skittles. To keep your children motivated, give them two to three pieces each time they reach a certain distance or landmark. Other great snack recommendations are trail mix, smoked almonds, no-bake oatmeal nut butter balls, and blueberry banana peanut butter bars.
● First Aid Kit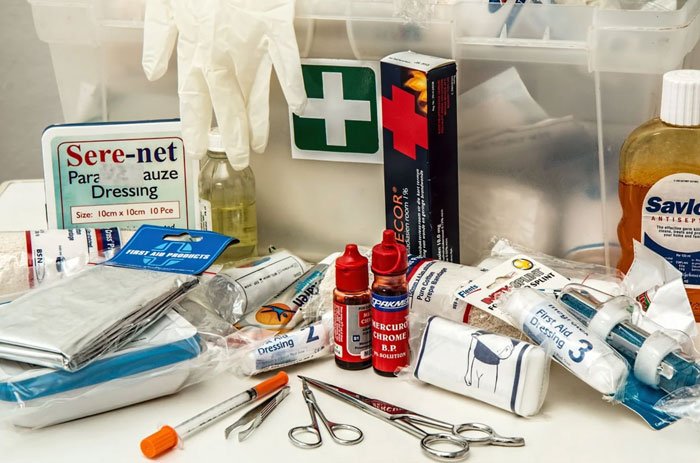 A first aid kit is a must for every family regardless of where you are ging. Always have a first aid kit ready and let's just hope you won't need it! In addition to your first aid kit pack wet wipes as well because it's most likely things will get messy!
● Hiking Carriers
If you're taking a baby on a hike, then a hiking carrier will come in handy. Not only will it help you carry your baby, but will make them comfortable as well.
● Hiking Clothes
For your kids' hiking clothes, make sure that they are comfortable. Choose those that are made from synthetic materials as they stay dry even when your body is working and sweating. Since comfort is important, why not go with soft cotton?
Simply this type of material will collect trapped sweat and moisture. This is uncomfortable and what's worse, your kids will have the chills if you're heading to the mountains.
● Shorts and Pants
Whether to let your kids wear shorts or pants depends on whether you are going. A pair of shorts is great as it lets your kids move around freely. They are lighter, cooler, and more comfortable. If you are going on a low-altitude hike, then wearing shorts should be fine.
Meanwhile, a pair of pants is more suitable if its cooler outside or if you are heading somewhere where there is heavy vegetation. Wearing pants protects your kids from dangers, such as allergenic plants and poison ivy.
● Socks and Boots
You'll see many types of hiking boots for kids. When choosing, always consider durability, comfort, and appropriate for weather conditions. If you're going somewhere really muddy or wet, choose those that are made from waterproof materials. But, if your destination is rocky, then get boots that are a bit higher for further protection.
For the socks, choose those that dry quickly and at the same time, provide enough room for your feet to breathe. Great examples are socks made from synthetic or wool materials.
● Rain Jacket
It's better that you still bring a rain jacket even if you're not expecting it to rain. Weather conditions can change really fast, so be prepared. Bring jackets that are breathable and waterproof to keep your kids comfortable.
● Sun Hats and Sunscreen
Sun hats and sunscreen will protect you and the kids from the sun. An awesome hiking hat is made of full-brimmed and waterproof materials. It is breathable and can keep water from going to your kids' faces in case there is a storm or strong rain.
● Layering
Regardless of where you are going, always anticipate that the temperature could become really cold. This is especially true if you are going to the mountains. The best way to prepare for this is to bring three-layer clothing.
For your kids' base, let them wear something light and moisture-wicking. Bring a light or medium-weight fleece and let your kids wear them once it becomes cold. For the outer layer, you can use the rain jacket for rain protection.
● Let Your Kids Bring a Whistle
A whistle is a useful hiking tool that many tend to take for granted. You can use it in difficult situations, such as your kids getting lost or getting into an accident. Before you start your journey, explain to your children well what the whistle is for.
In case they get lost, let them stay in a particular tree and blow the whistle. This will make it easier to find them. Some children are afraid to call for help as they may attract danger. Let them understand that it's okay to ask for help.
You can also use the whistle to alert any accident. It is louder than our voices, so calling for help will be faster if you or your kids use it.
● Familiarize the Trail and Follow Safety Rules
Days before your hike, research about the trail you have chosen. This is for you to understand and prepare for potential dangers that you may encounter along the way. Then, teach and train your kids on basic safety rules. To give you some ideas, we have gathered awesome tips to serve as your guide:
1. Stay visible. Tell your kids that they should be able to see their parents during the entire hike.
2. Be careful around water. Always keep an eye on your kids when you are around water. Watch out for slippery paths and bank edges where children could suffer from accidents.
3. Focus on the trail. Some mountain trails have potential hazards, like those that have traverse steep slopes or avalanche chutes where debris could fall.
4. Pay Attention to Teens. Teens are braver and more adventurous. Many tend to explore too much, like climbing areas that are off-limits. If you have teenagers, remind them to stick to the group and be more mindful.
5. Look back regularly to avoid getting lost. From time to time, look back and check the trail. Sometimes, things look different when you turn around. Be familiar with the surroundings to reduce the chances of getting lost.
6. Prepare mapping tools. To make sure where you are going, don't forget to bring a map or a GPS.
● Watch Out for Dehydration and Hypothermia
Always check on your kids if they are doing fine. Check if they are shivering and ask them if they are cold. if the weather is hot, offer them something to drink even if they don't ask. You can avoid dehydration and hypothermia if you prepare according to the weather. If you're going somewhere cold, bring a jacket. It would also be a good idea to bring a thermos to make hot drinks.
● Let your kids bring a friend.
Even though this is family time, bringing a friend or two won't hurt. It also makes it easier for your child to enjoy the journey.
● Assign your kids some responsibilities.
Children love it when they feel they play an important role. For instance, give them a copy of the map and let them take turns in navigating.
● Prepare some games.
You can make hiking more exciting by playing some games along the way. A great example is "I spy" and playing 20 questions. Give winners rewards to motivate everyone to play.
● Bring their favorite snacks.
It's always better that you prepare healthy snacks, but also bring their favorite, like Doritos or Cheetos. This also helps in making them look forward to the hike.
● Follow their pace.
Children, especially those younger, become tired faster than adults. Travel in their pace from time to time. You can also rest for a while if they ask for it. Remember, the journey is more important than the destination!