Since the modern generation has mostly lost the connection with nature
camping can restore back the faith and make kids to pick up some new skills
learn to balance out their stress as well as help them enjoy and appreciate the subtle beauty of nature.
Let us take a look at the best ways to help beginners settle in for a short camping trip!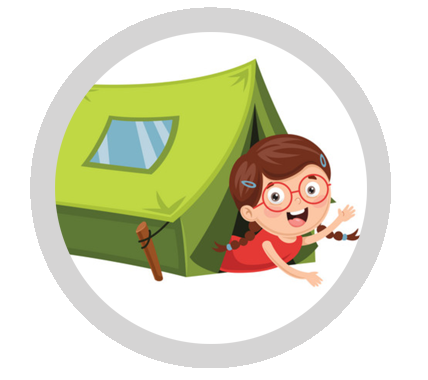 ● Teaches them that vacations dont always have to be expensive
One of the major reasons why kids should definitely go on a camping trip is for them to learn that trips do not always have to be expensive. Camping is mostly a budget-friendly activity that allows the child to spend time in nature and learn the concept of minimalism.
● Camping helps in building survival strategies
Another great reason to opt for camping with your kids is to teach them the basics of survival. Kids in one way, learn to survive on their own when camping. It encourages them to take small responsibilities at every step. Camping smoothly teaches a sense of leadership within the kids. Therefore, getting to know the basics of survival are a major aim that camping seeks to provide to the kids!
● Helps in blooming creativity
Camping is certainly fun for kids, as it helps them to be more creative. They learn to explore and take up challenges that come their way. In this way, the kids learn important life lessons while camping. Spending a minimalistic time in nature without any gadgets, force them to get imaginative, innovative, and resourceful. !
● Makes kids realize the importance of nature
In one way, camping is essential for kids to let them know the various aspects of nature. The things that nature can really bestow upon us can solely be realized while on a camping trip. Kids learn the importance of natural beauty, and the immense contributions that nature makes in the process. Therefore, kids learn to develop a bond while trying to soak in the splendid beauty of nature and learn to be appreciative of it.
● Kids embrace their new confidence
In a certain positive manner, camping helps the kids to embrace their inner confidence and become independent. It lets the kids hunt down major elements and use their common sense to explore various things around them. Therefore, this new confidence channelizes in the kids, the urge to move forward and be more realistic and practice in life!
● Camping helps kids find new friends
If your camping location is great, then your kids can certainly make some new friends. Camping teaches a child to develop interpersonal and social skills by allowing them a chance to meet new friends. . The whole process can benefit the kid solely in terms of learning to get along with everyone and being creative all the time. In order to create a nurturing experience for your kids, it is good to let your child mingle with others.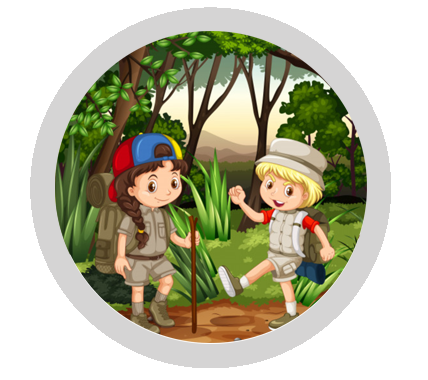 1. Basic requirements
There are some items that you must take with you when going camping. In order tobe prepared for every possible situation that might challenge you on a camping trip.
some of the essential must-haves are listed below:
● Tent. It is advised to keep a separate tent for your kids, in order to allow them a sense of independence.
● A torch
● Ground covers.
● Sleeping bags or small sleeping pods!
● Portable small crib, if there are any younger toddlers around!
● Pillows for kids, which are mandatory for them for bedtime!
2. Clothing
Your camping trip with the kids depends on how well you organize it for your little ones. Clothing is an essential part of this outdoor activity, which needs to be appropriate for the occasion. Since the availability of washrooms depends on the location you are going to, you must prepare your kids for certain circumstances.
Some common clothing resources you must carry with you are as follows:
● Kids pajamas, for bedtime.
● Jackets and hats
● Gloves
● Diapers, if small kids are around!
● Camping chairs
● Blankets
● Baby wipes!
● A first-aid kit
● Toilet paper
● Towels
● Basis t-shirts and pants
3. Camp food essentials
Cooking your kid's favorite meal while you are camping with them, is one of the best experiences you can have on the trip. . The kids get all excited, seeing their favorite meals cooked over a pot of fire. The campfire reallygets the kids all excited. . It is always advised to keep your meals simple for the kids when camping.
Some of the cooking essentials you must definitely carry are as follows:
● Portable stove
● Utensils, small cups, and plates for the children to have their meals on
● Some light snacks for your kids
● Water bottles
● Paper towels
● Trash bags
4. Fun activity necessities
Camping with kids is totally fun. It is one of the best ways to let the kids be free and enjoy in the lap of nature. In order to provide your kids with some basic entertainment, you can keep some pretty cool stuffs handy.
Some of them are listed below:
● Bubbles
● Play tents
● Scavenger hunting
● Glow sticks
● Card
● Colouring books
● Binoculars
● Fishing gears
● A camera
The products listed above, is a checklist forthe whole family especially when camping with kids.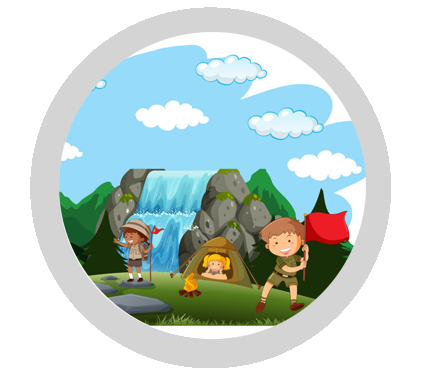 ● Let the kids pack their own bags
One of the biggest ways to help children have fun on their own camping trip is to allow them to pack their own bags. This is the very first stage that allows the child to anticipate what needs to be done for the trip.
A sense of responsibility starts to take over. You can always encourage your kids to pack their own stuff in a small duffle bag, which they can carry on their own. You can bring them colored bags too, to let them be more creative!
● Choose a good camping location
Location is one of the basic elements of a camping trip that parents need to decide on, in order to make the children happy during their camping trip. Avoid a jungle or an area that is too forested in the beginning. Try to minimize the location in the beginning.
This can be anything from a spot near the lake or other budget-friendly locations. You can choose a site that can be entertaining for your child. You also must think of your child's safety while they are run around exploring their surroundings
● Do not forget the toys
Kida will always be kids, no matter in what situation they are in. Carry some of your kid's favorite toys for emergencies if you need to keep them engaged in case they don't like the experience or get upset about something..the camping trip should really be about outdoor activities and connect to the nature which is why you should try to give them only the bare minimum.
● Pack some good food for your kids
Food is an essential part of all camping activities, especially when it is with the kids. If you are packing meals, let the kids have their favorite items. If the food is being prepared on the campsite, then let your kids help you in the process.




Roasting of food over a grill can double the happiness and excitement for the child. Your kids willthank you later for the amazing camp side food experience they have had!
● Organize some activity near to your campsite
When opting for the camp location, make sure that there are some activities nearby as well that your kids can go to.. This can be a short hiking facility or fishing in a nearby pond. Such activities allow the child to have fun.
It also encourages the child to check out the surroundings and turn their exploration gear on.
● Add some cool effect to your camping trip
Camping with your kids can never be too boring. Even then, you need to think and invest in some brilliant ideas in order to make it more interesting. Make the trip memorable enough in every manner possible.
A good idea to start off with is to incorporate some light near the campsite. A campfire is an excellent idea to make the kids all excited about playing around it. you can play games, sing songs, tell stories and organize so many other activities around a bonfire itself.
● Try to involve your kids in everything
Parents must research enough before taking their kids for a camping trip. In order to make your kids happy, keep them engaged in one way or the other. Teach them the different ways to cook food while camping.
You can also ask them to set up their own camping tent. Therefore, minor activities will make the kids learn to participate more and take more responsibilities in life
● Let them embrace nature
Another important way to let the kids have fun when camping is to make them embrace nature. Camping is an important lesson in itself for the kids.
In fact, try not to pose any restrictions on the kids while at the camp. Just let them be themselves and absorb the best of both worlds!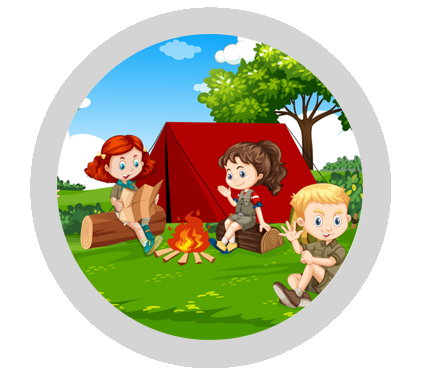 ● Learn or practice camping in your own backyard first
A quick way to make camping really easy and totally fun for the kids is to practice it first in your backyard. This can prepare the kids for the adventure they are going to have. Practicing allows the kids to distinguish between the dos and don'ts of camping! Camping will not seem tough if the kids practice it once in their backyard!
● Train your kids with washroom scenes
Going to the washroom is a little difficult, especially when kids are going camping. In order to make it easier for them from the start, parents must train their kidsthe basic washroom habits while camping. This will prepare the kids to handle his washroom habits while at the actual site.
● Educate them on safety
Safety is a major priority for the kids when they are going camping. Parents must teach their kids some basic survival skills. To easily set an example, parents must demonstrate all safety facts to make the whole experience easier and safer for the kids.
● Involvement is mandatory
Kids do get excited when something fun is about to take place. When it deeply concerns a camping weekend, happiness is clearly reflected in their hugs and kisses. Therefore, to give the kids the best experience ever, it is good to involve the kids in every manner possible. Involvement can be in any form, which can teach as well as make the child have fun!
● Try to go light with packing
Camping with your kids in the best location is a cherishable moment for the parents. Therefore, to make the whole adventure easier and wholesome for the kids, try to go light on the packing. You want to let the kids enjoy and getting involved with them can only happen, if the things you carry are basics.
● Teach them the value of establishing a relationship with nature
Camping is a great activity to honor the friendship that kids develop with nature. To let the kids feel all-natural, it is good for the child to mingle with every aspect of nature. In one way, camping will be a lot easier, if there aren't any restrictions imposed. Let the kids be themselves when camping.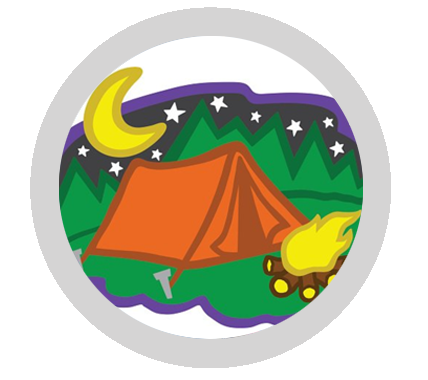 ● Get a good sleeping bag
A good sleeping tip to let your kids feel safe and cozy while camping, is to have a good sleeping bag. This is an essential sleeping item that no parent must miss, especially when having kids for camping.
Sleeping bags are cozy and can help the kids and the toddlers to sleep better. The feeling of being in an unknown place totally vanishes away, if you have a good quality sleeping bag with you!
● Keep the bedding light
The bedding you place in the tent must be light. At the same time, it must be cozy enough to keep the child comfortable. The bedding should not be too hard or else, the child might have trouble sleeping. Try to opt for separate bedding for your kids, to make your child feel secure!
● Have ear-plugs
Ear-plugs are mandatory for kids going on camping trips. These keep all unwanted noises at bay and helps in giving you good quality sleep. In order to help the toddlers achieve good sleep on a camping trip, make sure to carry ear-plugs! This will help the child sleep better and ensure safety for bug and insects too!
● Pitch your tent in the best spot
To let your kids sleep well while on their camping trip, it is essential to pitch the tent at the right spot. An uneasy and rough surface can be quite troublesome for the entire family. It can cause backaches and prevent the child from taking a cozy nap. Therefore, the location must be proper, so that your kids can sleep cozily at night!
● Warm up the bed before sleeping
A crazy camping hack when taking your kids along is to warm up the bed before sleeping. This will help the kids feel safe and quite comfortable, even in an unknown location. Warming up can make your kids sleep better without external worries!
● Bring insect repellents while camping
Some camping sites might have loads of insects and mosquitoes here and there. You certainly do not want these insects to destroy your sleep at night. Insects can harm kids by spreading allergies and other types of skin infections. Therefore, it is always advised to carry some insect repellent with you. Just moisturize or spray some repellent on your kid's skin so that they can safely sleep at night.
● Always stay calm
To ensure that your kids enjoy camping like never before, it is good to stay calm when night-time begins to settle in. Also, you must not panic when you take your kids camping. The main goal is to enjoy every bits and pieces of the time you have planned to stay together. To help kids sleep better, add some extra touch of warmth by lighting in the campfire.